Our Story
Starting a New Venture
Just because the $175Bn video game industry is making money, doesn't mean it doesn't have challenges. Dozens of studios fail each year, leaving thousands of talented and dedicated developers looking for work, and most investors scratching their heads. Many of these experienced developers start their own studios, but it is their first time, and these new studios could use some help. It is far more challenging for studios staffed by people who lack that experience. As you know, starting a business venture is different from working in a corporate environment. Even more difficult than starting a new business venture is successfully operating the new business. They do not call us "the 1%" for nothing.
The Challenges
Currently two percent (2%) of game development companies generate 92% of the industries' revenues. If you are Apple, Google, Microsoft, Nintendo, Sony, or Valve, this simplifies getting a game published. However, it also creates challenges. While these "AAA" games can generate large waves of revenues, these games do not come out every week, leaving large troughs of much lower revenue between releases. Added to this challenge is the lack of original content being released to excite the imagination of 3.1 billion gamers worldwide (80% of all games purchased are sequels.)
The good news is that most developers out there (about 2 million or so) are "Indie developers" (those unaffiliated with the large studios). They are constantly producing original content. Some of the biggest hits have been from Indies, most notably: Among Us, Fall Guys, Limbo, Minecraft, and Pokémon GO. However, that is not the norm, with 95% of Indie studios failing to break even. If the video game industry is to grow at a continued 10%+ CAGR (20% last year), where is the growth coming from if the vast majority of those providing original content are failing?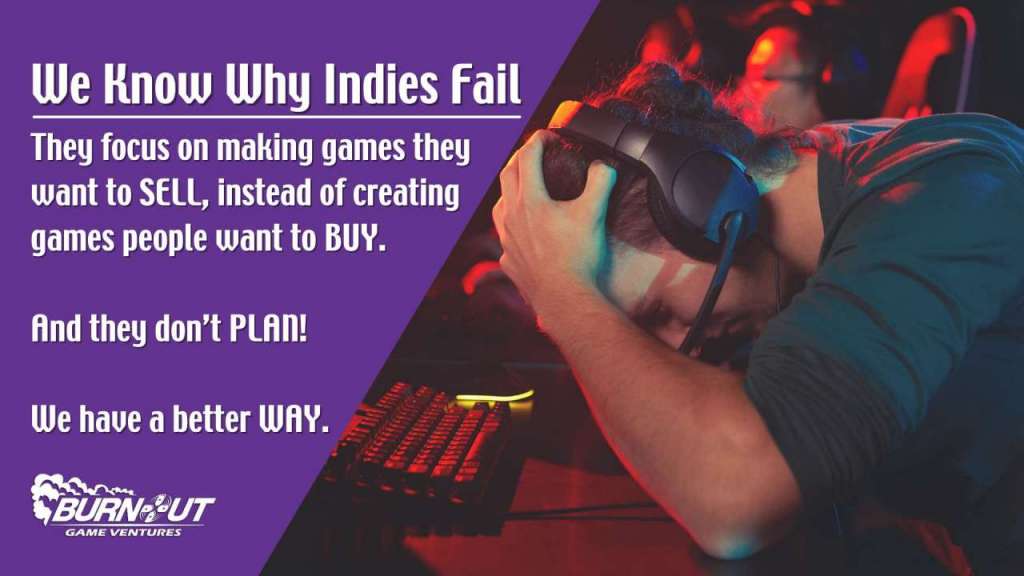 Enter Burnout Game Ventures
At BGV, we offer an indie studio trifecta: we are experts in the video game industry; pros with tech startups; and, have proven, successful track records with both.
And we know why indie dev studios fail:
They focus on making games they want to sell, instead of creating games people want to buy.
They don't plan, which means their scope, schedule, and marketing go out the window (with predictable results).
Their small, typically 1-5 person teams spend all their free time—2-4 years (or more)—developing a game that does not sell and won't break even.
At BGV, we provide Indies with all the people, resources, proprietary processes, and motivation they need to not only create great games, but to do it quickly and consistently.
Yet, we're also realistic. We do not aim for the stars, hoping for the (exceedingly rare) "Hit". Our goal is to instead create and foster economic development through game development. Creating and/or accelerating game studios that consistently produce products that allow them to grow at 30%+ per year for the next 5-10+ years, enables us to generate significant revenues for the studios and our investors alike. Additionally, our royalty model allows our investors to begin receiving ROI right from the next dollar; you do not have to wait years to see any benefit (if at all).
There is much more to tell. However, the documents you will receive – assuming that you are an "Accredited Investor" – will fully explain everything. We hope that you will join the BGV family and enjoy the experience for years to come.
Industry Snapshot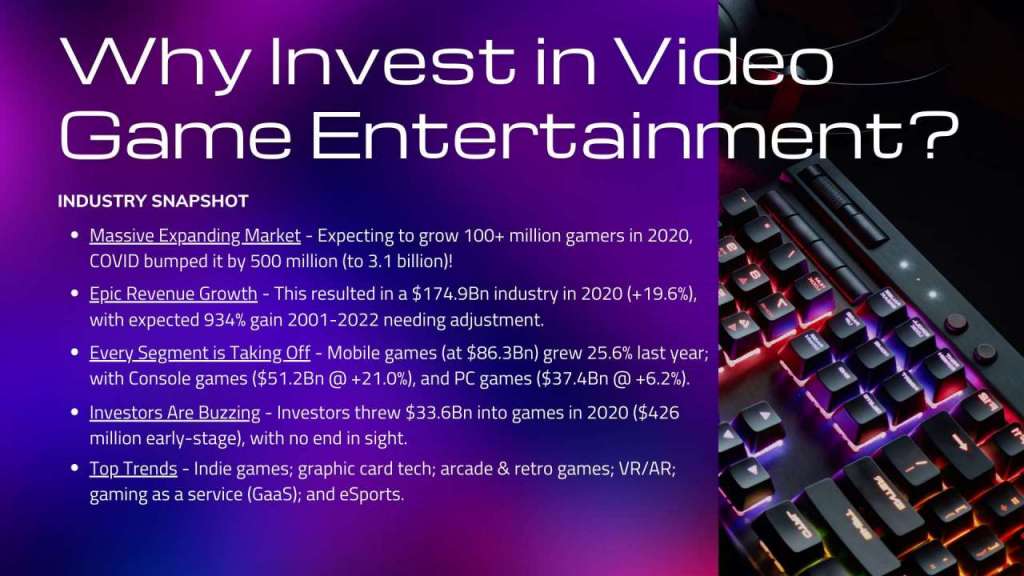 Why Invest in Burnout Game Ventures?
Not Your Standard Venture Capital Deal
This is a unique opportunity, in which you can receive a pro-rata percentage of our Gross Revenues, from the next dollar. Our $2 million Private Placement Memorandum (PPM) will be deployed to launch revenue-generating games (and other revenues streams) from which investors will share 7% of the gross revenues (quarterly) – based on investment made – with the potential of receiving up to 200% of their investment within a 4-year period. Essentially, investors shall receive cash flow almost immediately, and up to double their investment.
Who We Are
BGV is creating the quickest path to revenue for indie game developers/studios and rewarding early investors with attractive royalty deals. Through BGV's Accelerator, Indie developers get desperately needed business, technical, and marketing support from an elite advisory team to quickly propel their projects into revenue-generating mode.
Burnout Game Ventures identifies, filters, and incubates/accelerates talented game startups into successful, sustainable enterprises. Many of our 40+ world-class Advisors have many years of successful game development, having worked on the most epic games ever sold: Call of Duty, Mortal Kombat, World of Warcraft, Splinter Cell, Angry Birds, etc. Our proprietary processes – implemented by these Advisors and our BGV Team – allow us to help create quality game experiences fast.
Our first release, BiT Evolution™, was ready in less than six months (typically 17 months). Currently, we are listing 67.7k+ downloads (what Steam shows), while there is another 100K+ outstanding (from sales that have not been redeemed). Our latest game, Vectromirror 0™, released July 2020, has 80k downloads and counting (adding 100s each day). We would like to add that, prior to BGV, our marketing team had generated $500+ million in game revenues. Now, it's our turn.
Recent Success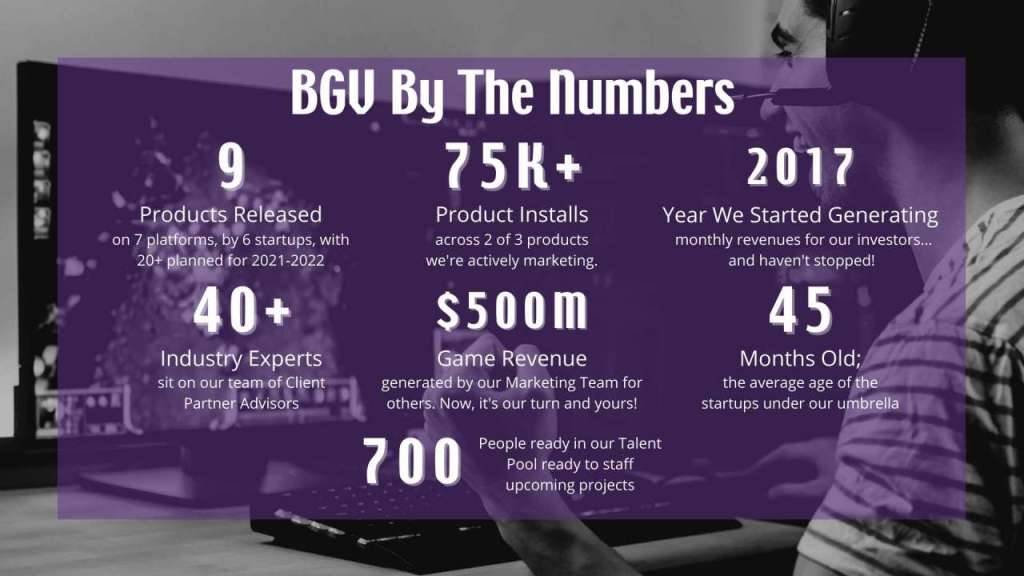 We make money by sharing in the revenues generated by the release and distribution of our Clients' finished products. With more than 24 product releases scheduled for the next 36 months; we are like a mutual fund of video games!

---
An investment in the securities described herein involves a high degree of risk and should be made only by investors who can afford the loss of their entire investment.
Any securities an investor receives when investing in BGV are subject to the Securities Act of 1933, as amended, and may not be sold or otherwise transferred without compliance with the registration provisions of the Act or unless the availability of an exemption from such registration provisions has been established, or unless sold pursuant to Rule 144 of the Securities Act of 1933 (if applicable).
This Investment Portal is NOT an offer, advertising, or solicitation to sell securities. Such an offer can only be made through our Private Placement Memorandum for which qualified accredited investors will be accepted.